Vixen Hotwife First Hotel Meet
Claire, my shy wife of five years, and I had our first "hotwife" experience a few months ago. That night was intended to be all about her taunting our limo driver by letting him see her naked while we fucked. That night, though, things got exciting, and she ended up taunting AND fucking him after our wonderful supper out of town. It would be an understatement to say that living out that ideal met our expectations. We recorded the event and continue to watch it over and over. Following that, I kept expecting terrible consequences in our relationship. There were none, which was a huge relief for both of us. That sounds a little crazy, doesn't it? How do you get off on another guy fucking your wife without having to pay the piper with emotional sorrow later? It baffles me. All I can say is that when my wife was fucking this stranger, I felt nothing but love for her. It was getting hotter for me as she got off on him more. My impression of her has only become better since that night. I know this concept is messed up, but after witnessing her screw him, I actually acquired respect for her. Don't ask me why or how; it's a complete mystery to me as well. But our sex has been out of this world ever since. I asked her if she was up for another experience after approximately a month of fucking like rabbits. "If you're cool with that, I'm all in!" She responded.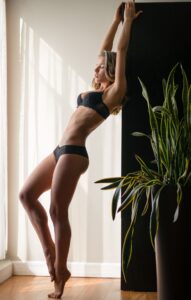 Claire is the most normal woman you will ever meet, unlike the wives you hear about on porn sites. She's a wonderful wife and mother to our three children, and she's also an active part of our community at 34. Her attractive features and stunning "C" cups turn heads even though she dresses conservatively. She's a classic MILF, standing 5'4″ and weighing 120 pounds. She has a modest exterior, yet all of her ex-boyfriends are aware of her incredible libido. If her friends in our neighbourhood knew about this side of her, they'd be shocked.
Claire and I had discussed going to a hotel outside of town and having her meet a stranger in the bar to bring back to our room for sex previously. Because this was the experience with which she appeared most at ease, the planning began there. The trouble was that finding the appropriate guy who would not only hit on her but also be willing to have sex with her in front of me was a complete gamble. As much as this sounds like a fantastic erotica experience, putting it into action is a completely different storey. The majority of guys find this weird. Based on my research, it appears that most males would be uncomfortable in this situation. I offered that we look for our man on Craigslist, but she immediately dismissed the idea. She found the idea repulsive for whatever reason. "Let's just do it my way," says the narrator. She stated her case. "Whatever occurs, happens." If not, we'll still spend a pleasant night in a hotel, and I swear I'll make it worthwhile."
I thought to myself, "Umm, yeah." We could also build up a sure-fire experience with a near-100 percent chance of success. In any case…
Okay, the following part isn't anything I'm proud of. I'm very aware that what I did was unethical. I also understand that in these types of relationships, complete honesty is essential because trust is so critical. These are things I'm aware of… But I was desperate to see her fuck another man. I didn't want to risk anything. As the hotel reservation date approached, I created an email account that Claire was unaware of. I looked through the Craigslist advertisements in the city where our date was scheduled and responded to five of them. I wrote each man a letter in which I told them the truth about my position and included a few photos of Claire. Because all five men were interested, I conducted a one-on-one interview with each of them. They all sent self-portraits, with three of them including photos of their cocks. I knew it would take a long time, but I wanted to make sure Claire had the best man possible. I had to be self-disciplined as well, because the guys I wanted to see her fuck with were not the same guys she wanted to be with. This was never going to happen if she wasn't drawn to them. I immediately removed two losers for exaggerating their looks and fitness levels. Physically, the three remaining candidates were all acceptable. James was a hulking black man with a massive cock. In my opinion, he was an easy winner, but Claire isn't like black guys or big cocks. Two of her few significant weaknesses. And, because this was a secret operation, I felt compelled to choose a man she would choose. I hesitantly declined James' request. Dale and Charlie were the only ones remaining.
Charlie appeared to be a well-dressed businessman. He claimed to be a lawyer, but his witty sense of humour cast doubt on that assertion. He was 5'11" and slim but muscular, with short brown hair and green eyes. Claire is Claire's type. Charlie was no exception to the rule that every guy on Craigslist professes to be well-endowed. Unfortunately, he didn't provide a photograph as confirmation, so I was completely in the dark. Dale, on the other hand, was a bald, muscle-bound man. He was 6'1″ tall and had a photo of a great fat cock on his profile. It wasn't the behemoth James was wearing, but it was a show-stopper nonetheless. From his emails, he appeared knowledgeable, but he lacked Charlie's quick wit and charisma. It was a great turn on for me to imagine this powerful gorilla banging the crap out of my Claire. But I also knew it would be a no-brainer for her. She'd take Charlie over anyone else in a heartbeat. This was a decision that I tormented myself about. My guilt eventually got the best of me. Charlie came out on top.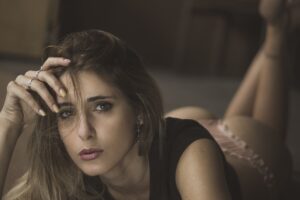 Charlie and I had formed a terrific email rapport by the time the big day arrived. I loved him a lot and thought we were buddies. Claire and I had planned to go out to a lovely meal and then return to the hotel room for a few drinks. We'd head down to the bar separately once Claire was intoxicated (and thoroughly turned on). While my wife sat at the bar waiting for Mr. Tonight to arrive, I would sit off to the side and watch the commotion. Of course, she had no idea I'd stacked the deck in my favour and hedged my bets. I had Charlie's phone number so I could inform him of our plans and provide him advice if he got himself into difficulty. I made it obvious that the rest was up to him once he introduced himself to Claire. She didn't want to have sex with just anyone. It had to be someone she was interested in and was attracted to. There was nothing I could do if he was turned down. Of course, I assisted him in a number of ways. I told him about her hobbies and the types of men she loved. As I write this, it occurs to me how shady the whole situation was.
Claire and I took a 45-minute drive to another town to check into our hotel. We decided that whether or not we found a suitable man, this was going to be a terrific night. For a great supper, we dressed up. Claire was stunning. She was dressed in a new red gown that fit her perfectly. The top was too long for a downblouse shot, but the bottom was too short. Despite her trepidation, she opted not to wear panties. When she sat down, everybody close her could get a great pussy shot. She felt a little vulnerable at first, but she relaxed after two glasses of wine in our hotel room.
Dinner was fantastic. Claire was able to tease our man server with a number of amazing pussy photos because we had a male server. Every time, his face flushed, and we had a good chuckle over it. Despite the fact that supper had turned us on, she appeared considerably more worried about this evening than she had been the night she fucked the limo driver. Probably because fucking the limo driver was an unplanned activity, whereas the sex this night was premeditated. We returned to our hotel room to get ready for our next night of stranger-fucking. To alleviate the jitters, I suggested we settle down and have a drink. "I'm not sure why I'm so nervous," she admitted. "This isn't the first time we've done anything like this."
"Only once, Sweetheart," says the narrator. I stated. "Give yourself a break. For us, everything is still fresh. If you don't feel like it, don't do it."
"However, you will be greatly disappointed." She stated her case.
"Hey, this is for us both." If you're not cool with it, it won't mean anything to me. Let's just go to the bar and have no expectations. Take a look around. Perhaps you will unwind and like it, or perhaps you will not. However, if you aren't interested, it isn't a big thing. I'm still going to come back here and screw your head out." I stated it with a smile on my face. I hauled her onto the counter by grabbing her by the waist. I could easily see her lovely pussy now.
"Can you tell me what you're doing?" She inquired, a knowing grin on her face.
"Nothing." I kissed her neck, leaning in close. I moved over to her mouth and began passionately kissing her. It didn't take long for her to return the kiss. I started toying with her tits with one hand while reaching for that lovely, wet box with the other. She is really easy to arouse. When she was ready, I inserted two fingers into her and began turning her on completely. Then I knelt down and began sucking her delectable pussy. I could have licked her all night if I wanted to. We had an appointment with destiny waiting downstairs, so she wanted to fuck right there. I licked her all the way to orgasm and then backed away. Hopefully, the next time I tasted her pussy, it would be after it had been thoroughly fucked by a stranger.
"You knucklehead!" Claire burst out laughing. "All right, asshole." "I'll give the plan a go," she remarked with a hearty hug. And with that, I was no longer able to bear the guilt.
I said, "Wait." "I'm sorry, but I have to tell you something…" Claire was the first person I told about what I'd done and why I'd done it. She was furious at my dishonesty, to say the least. I apologised repeatedly. The good news is that she was still buzzed and turned on after our foreplay. I could tell she was interested in the person who had made it through my selection procedure. I begged her to simply meet him. It wasn't a big thing if she didn't like him. Claire consented after several minutes of hollow promises and pitiful begging. We'd gone to the hotel's bar.
Claire was the first to enter, as anticipated. She strode up to the bar and took a seat away from the other customers. I followed suit and took a seat at a tiny table distant from the crowd. My heart was racing uncontrollably. I texted Charlie as soon as I sat down to let him know we were in the bar. Claire's outfit was described by me. It was so much fun watching my beautiful wife sit alone at the bar, waiting to be seduced. Several men were eyeing her, and I hoped she'd be brave enough to start flaunting her pussy. Just then, I noticed a man approaching the bar. I knew it was Charlie right away. When I saw him, I got a surge of adrenaline that nearly knocked me out. What had I done, exactly? This was actually taking place.
When Charlie took his seat, he sat two stools down from Claire and grinned innocently at her. He placed an order for a drink and then sat there staring into space. Was he starting to lose his cool? It didn't make a difference. Claire began conversing with him, to to my joy. Oh, my goodness… I couldn't hear what they were saying, but they seemed to get along. Despite the fact that Claire had been told about the insider knowledge I had provided him, she appeared to be truly interested in him. In person, Charlie was far more attractive. He had a contagious smile and a contagious energy that pulled you to him. It didn't take long for them to start laughing together. Then I remembered Claire didn't have any underwear on. While they talked, she was facing Charlie and had to be giving him the best view he'd ever seen. I could be wrong, but I don't believe she realised she was putting on a show for him. She just seemed to be smitten with him. She seemed to like my boyfriend. Charlie slid over to the stool next to Claire and placed another round of drinks in front of them. As I watched this scene unfold, I had a raging hard-on.
I watched my lovely wife flirt like I'd never seen before for the following 45 minutes. She was hanging on every word and cracking up during the wait. As she spoke, she continued leaning in and stroking him. Finally, she leaned in close and whispered something into his ear. I could see she'd brought it up by his expression. Of course, if he played his cards correctly, he already knew what this night could be about. When Charlie asked for the bill, I knew it was time to check into our hotel room. In the closet, I swiftly put up the video camera. I hid it carefully and left the door open far enough for the couch and bed to be seen. I sat down at my computer to pretend to be working after I was sure the camera was ready. This was ridiculous, but I was nervous and didn't know what I was doing. I heard a key in the door five minutes after I arrived. Claire and Charlie entered the room.
"Hey, baby!" she exclaimed proudly. "This is Charlie," she said.
I got up and extended my hand to shake his. "Charlie, it's a pleasure to meet you." I remarked, a worried smile on my face.
"Honey, Charlie has agreed to assist us with um… with our, uh… fantasy," says the narrator. Claire made an embarrassing remark. "OH MY GOD!" she said, her back to Charlie and a wide smile on her face.
For me, it was all a little daunting. In anticipation of the upcoming intercourse, I was extremely turned on. Claire appeared to be smitten with Charlie. I had the tiger's tail in my grasp.
Claire happily told me about her blind date when Charlie excused himself to use the restroom. "Oh my God," she exclaimed quietly. "He's a complete jerk!" He explained that he's been divorced for two years, had a vasectomy, and hasn't slept with anyone since his wife. Only God knows the true meaning of truth. He said he's only dated THREE women, and I'm way more appealing than any of them. I know he's a complete jerk, but I have a lot of fun with him! "He's a total babe!"
Oh, brother, I thought to myself. What a load of nonsense. "So you think he's cool?" Sweetie, that's fantastic! "Let's get something to drink," I said. As we tried to relax with small chat, Charlie returned, and I mixed three Whiskey Sours for us. It's never the same as you imagine it to be when you're living out a fantasy. Before they can jump into bed with each other, real people need to relax. The alcohol served as a means for all three of us to unwind as well as for us to get to know one another. We talked about where we grew up and where we went to college. I'm not sure if Charlie was telling the truth when he told his stories, but he seemed sincere and friendly. Claire sat in a chair across from Charlie on the couch. She seemed to forget that her pussy was fully exposed the more she relaxed. My dick hurt from staring at Charlie's lovely box as we chatted about everything but sex. We were all very comfortable and enjoying each other's company after half an hour. While I excused myself to the restroom, I advised Claire and Charlie sit next to each other on the couch to get to know each other better.
I lingered in their room far longer than I needed to, expecting that without me there, the two of them would feel more intimate. I listened hard at the door, but there was nothing there. I opened the door slowly enough to catch a glimpse of them in the wall mirror. As I saw Claire closing in on him, kissing him passionately, adrenaline surged through my body once more. Clearly, she was the aggressor. And this was undeniably taking place.
I sat for a few minutes watching the programme before returning to the room with a blazing hard-on. Charlie came to a halt when he saw me. "Don't worry about me, gentlemen," I said. "Just have fun with each other." Claire kissed him again after moving his face back to her lips without ever looking across at me. She then knelt in front of him, straddling him on the couch. She kissed his neck, unbuttoned his shirt, and opened his shirt to reveal his toned, lovely body. She leaned down to kiss his naked chest while moving her hands across his powerful abs. My wife had me completely enthralled. I'd never seen her be that sexually aggressive in my life. Charlie reached up and gently removed her dress's straps from her shoulders. He continued to pull the straps down until her breasts were completely exposed. Charlie took one of her tits in his hand and encircled the other with his lips. Claire enjoys having her thighs sucked. As he pinched one breast and nibbled the other, her head drooped. He moved on to the other breast once the first had been completely consumed. I liked seeing another man get the tits I'd lusted after for so long.
Charlie muttered, "I want to taste your pussy." He carefully took her up and placed her on the couch. Charlie knelt in front of her and raised her dress to reveal her flawless pussy. With the tip of his tongue, he gently licked her lips. Claire immediately responded with a sharp arch of her back. Charlie began to dig his tongue into her pussy. He was savouring her juices as if he was starving for her. Claire was rapidly approaching orgasm. Charlie slipped two fingers into her, almost knocking her out.
"All right, Champ— hold on!" Claire cracked a joke. "Now it's my time."
Claire got down on her knees and unfastened Charlie's pants as she slid off the couch. I was quite grateful that I had put up the video camera. This was the real deal.
Charlie reclined on the couch, his pants dragged all the way down to his ankles. I couldn't take my gaze away from the imposing package bursting from beneath his underwear. "Please, God…" says the speaker. I hoped he had a huge dick, I thought to myself. She snatched his waistband and drew his underwear down carefully. This is a joy I wish every man could have. She was a slut to the core. She revealed Charlie's gorgeous dick in a moment frozen in time. This was a cock she and I could both agree on: long, veiny, and thick.
"Oh Charlie," she cooed as her hand softly stroked it. "I bet you're LOVING this, Dave," she smiled as she looked across at me. I returned the smile and nodded in agreement. She licked his entire length, beginning with his well-kept bottom and ending with his enormous, thick head. She flung open her arms and took in as much as she could. Charlie fell back in ecstasy as his eyes rolled into the back of his skull. My friend Charlie was now enjoying what many lucky men have enjoyed with my lovely Claire: one of the world's best blowjobs. As she frantically went to town on his cock, he put both hands on the back of her head.
This was a dream come true for me. Even though I'd just seen her fuck another man two months before, seeing her suck another stranger's cock was just as amazing. I feel I could see her fuck a thousand different men and still have the same reaction: utter bliss.
I stepped behind Claire, laid on my back, and placed my face between her legs as she expertly licked his cock. What an amazing sight! I drew her hips in closer to me so I could lick her pussy while watching her sucking Charlie's dick. She was drenched to the skin. "Oh my God," she exclaimed as she wiped the prick from her lips. I took a mouthful of pussy juice and drank it down as quickly as I could. What a jerk! If it hadn't been for my twisted need to see her take that cock out of her mouth and bury it deep into her belly, I could have stayed there indefinitely. I licked her pussy for a few more minutes before rising up and assisting her in completely removing her dress. She rose up, turned around, and sat backwards in Charlie's direction once she was completely naked. He snatched her by the waist and dragged her down to his rock-hard cock. I locked my gaze on her as she slid her petite pussy's lips onto the huge head of his cock. I'm not sure if this was the biggest cock she'd ever had, but it sure felt like it. She bit her lower lip and concentrated on slamming into him. She drew him deeper and deeper into her tight pussy, inch by inch. I knew she'd never be able to take all of his length, but I admired her for trying. After removing her dress, I was still right in front of her. Her pussy was only a few feet away from my face. It was a dream come true to watch that enormous dick grind its way further and deeper inside my wife. She screamed, "Oh fuck!" "Oh, oh, oh-my-GOD!" exclaims the speaker.
How A Vixen Hotwife Meets Bulls
Treat your Hotwife to the Ultimate Gift