Stag Vixen Hotwife Swinging Cancun
 A Stag & Vixen Swing in Cancun Temptations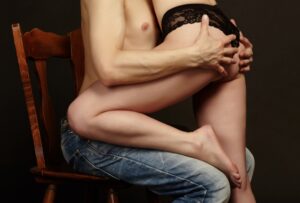 The warm summer rain fell out of the night sky in sheets, and could be heard even through the walls of the resort.   The Cancun weather said that the rain would continue through the night, but would be gone by morning. It was the perfect evening, for what my wife and I had in mind.  My wife and I were on vacation together for the first time in more than a year at the Adult Swingers Resort Temptations in Cancun.
I am Miles, I work for an oil company and my job keeps me busy and away from home more than I would like. But the money is good and I enjoy traveling.  I attended the exclusive Scottish private schools Merchiston Castle in Edinburgh when growing up and then then Yale College in America when I moved to the States.
My wife, Jessica (Jess) and I reside in Edinburgh Scotland. Jess and I met at Yale, when we were we both attended college. Turned out, that she had grown up part of her life in Scotland as well. It is no wonder that she and I have so many common interests including being a Stag and Vixen Couple, Jess is also known in The Lifestyle as a Hotwife
Jess was stunning and classy, she is a fine 44 year old. She is short at 5'1", with a great ass and boobs that fit my hand perfectly. With straw colored shoulder length hair and a shapely figure, Jess is a very sexy Vixen , she oozes confidence but in a subtle way.
Out of all our friends there are very few other couples that enjoy the completely open relationship in The Lifestyle like my wife and I enjoy. That is how we chose to vacation at the most exclusive swingers resort in Cancun.
Jess and I were just returning from an evening of eating dinner in the resorts five star restaurant. We could hear the rain pounding down on the resort roof as we walked the corridors. This was only the third night of vacation and we already had been "busy' the night before and both still sexually buzzing from the intensity of watching my wife being fucked by a stranger we had me at the bar.
As we walked back to our hotel room, we saw a room door slightly ajar, was this a symbol of an 'open door policy' we had read so much about? We looked at each other eyes open with excitement.
As I cautiously pushed open in the door, I felt someone pulling on the other side of the door.  The door opened, just enough for a person to peek out. Pretty eyes, a great nose, and reddish hair greeted us.  The lady spoke to us but she remained hidden by the big door. , "Would you like to come in you are welcome? I am Melanie. Would you like to have some fun?  The more the merrier."
I introduced us and tell her about our plans about going back to our room, but before I can finish my sentence, Jess said, "I think that sounds like a great idea. Is your husband here?"
I smiled to myself as I knew that fate had stepped in and was going to allow us to spend this night, in a swinger's session together. Not that I mind us being apart, somehow, after being apart, the sex between us is always better. But tonight, I was in the mood for Jess and I being in the same room and thanks to Melanie and her invite, we were going to be.
Melanie backed away from the door she said, "I am so glad you agreed. Harry, he's my husband and I are already and waiting for you. Come on in."
Jess and I stepped inside the room and we see Melanie had answered the door totally naked.  In fact all the people in the room were already naked. Her husband Harry we presumed, was on the bed at the far end of the room, and he waved at us.
Jess and I glanced at each other and a slow smile spread across both of our faces' To the left we could see into a small kitchen area and several naked people holding drinks and laughing, having a good time, and off to the right there was a pool table with a nude man and a woman playing pool.
I did not have to say anything, or even look at Jess, I could tell, that she was just as turned on by this idea as I was. Jess and I quickly stripped out of our clothes and put them in one of the wardrobes that Melanie showed us to.  Melanie was a shapely lady in her late forties I'd guess and I could not help notice had a very nice ass as she walked away.
We stood a minute just absorbing the whole scene as Melanie walked away. From the bed Harry got up and came up to us. He was tall, perhaps 6'3, also in his forties I'd guess and he was sporting a semi erection of some eight inches. Melanie said, "I would like to introduce you to my husband Harry."
Jess and I shook his hand and I introduced us both. As I introduced Jess, I noticed that she is already staring at Harry's huge erection. I have to admit, that it appeared to be growing and straightening as we stood there small talking. I soon found that I too could not take my eyes off of it.
Jess and I learned that being with Melanie and Harry, Five minutes with them and you feel like you've known them forever. Melanie was overly friendly, gregarious, outgoing and emits an energy of sexuality that never quite goes away in any circumstance.  Harry was completely charismatic and charming in a very masculine way. I have to admit that his growing erection, was also a turn on, especially in this situation knowing my wife was captivated and desired it.
I counted three couples in the room and Melanie led us past the bar area, which was where the kitchen was. Up on the kitchen island a gentleman was eating a big busted brunette's pussy both by the sound of it enjoying it immensely.  She had her eyes closed as she moaned and pulled his head deeper into her snatch and was unaware of us passing.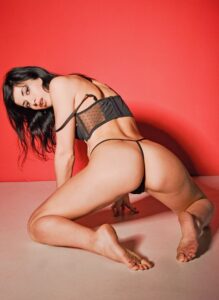 As we continued to walk I feel my dick getting harder by the minute. I was only self-conscious of it when Melanie stopped briefly at the Bar and turned back to Jess and I with margarita drinks. Her eyes glanced down to my cock as I accepted and thanked her for the drink.
I felt myself blush at first but, as several guys trotted by me with fully hard dicks, the feeling was fleeting. I have about seven inches and it's decently thick with a nice shaped head. Jess smiled at me and said, "Let's do it," and we tap glasses and take a sip of a very well made Margarita.
I looked around the room as Melanie knelt down and looked right at me. Then she engulfed Harry's semi hard cock who had come to join us.
Jess, who stood next to me, watched as well, and no sooner than when Melanie's lips hit bottom on Harry's cock, Jess looked up at me, then she dropped onto her knees and took my cock into her warm mouth also.
The whole scene and the whole evening actually, was sprinting into directions I'd never suspected I'd ever dreamed of. Jess sucked my shaft from head to balls and it was great. I was enjoying it and would have let her continue all night, when Melanie says, "Okay, next activity."
Jess broke away from my now stone hard cock and laughed at the how I groaned in disappointment as she stopped.  I stood in front of two strangers with a hard cock as Stacy wiped her lips off on the back of her arm.
"Girlfriend, oh you got skills," Melanie said and stepped up and high fived Stacy. Melanie looked at my hard cock and nodded her approval. "Let's play a game," Harry said, and everyone was down for a round of pool.
As the balls were being racked up by Harry, another couple approached.  It was the man, that I had seen eating out the brunette earlier in the kitchen. He said, "I am Chris.'Harry broke the rack, and as the balls settle to a stop, as the brunette said, "I am glad to meet you too. I am Tina."
I could not help but be impressed as the brunette cuddled into Chris's side. She appeared to be in her mid-twenties at the oldest while Chris appeared to be closer to my age. Chris saw the impressed look in my eyes as I glance between them. I smile at him and he was all smiles back. He reached out his hand to shake mine.  I noticed his huge cock hanging in a semi hard state between his legs.
He then stepped over to Jess and gave her a hug.  As he moves over to Jess, her eyes went directly to his cock that was very impressive dangling there.  I watched it rub against her leg as they hug.
The pool game continued while Chris and I chatted a bit and he seemed a very nice guy. He told me that he loved having friends for these events monthly or whenever he can get away from work. He explained how he lived not far from the resort and knew several of the workers.  He excused himself and went over to the sex swing that was set up just beyond the pool tables, and checked out the rigging and straps. It was obvious he knew all about the rig that I had only seen in videos.
I was so engrossed in the contraption that I nearly missed my turn to shoot pool.  As I positioned myself for a table length shot, Melanie stepped in behind the pocket. I glanced up and see Jess's hands coming from behind Melanie onto her tummy, then sneaking up and cupped Melanie's breast in her grasp. It was very erotic. I'd never suspected Jess to have bisexual desires.
I'd noticed they had begun to talk between themselves some and I figured this little antic was devised to distract me. It was working too. Jess was feeling Melanie's breast with intent, soft sensual caress' and tender nipple touches. I'd never imagined Jess, fondling a woman but now that it was in front of me I couldn't take my eyes off of it.
Harry patted me on the back, and said, "Damn, you poor bastard, they are not making this easy for you huh?" I nodded and refocused.  I can feel my cock was stirred again but took and made the shot good. "Yes!" Harry yelled out. "That's a man of steel."  I smiled and had to admit I was proud of myself.   Melanie leaned over and looked at my stiffening cock, not steel, yet, but definitely got some wood to it. She smiled at me.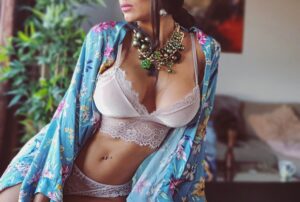 Harry and I wound up winning the pool game and we raised a glass towards each other before we took a celebratory swig. As I swallow a sip of the tasty Margarita, Jess and Melanie came up to me and both got on their knees. I was at loss of what to do, but Melanie took my cock into her hands and stroked it a couple of times then aimed it at Jess.
Jess looked up at me and said, "Are you ready?"  I could not speak and just nodded.   She then sucked my cock into her mouth. Melanie was lightly cradling my balls as Jess sucked my cock, then pulled away looking up at me with the biggest smile as Melanie then swallowed my cock down her throat. I felt her lips press against my body and she had all of me in her mouth, her tongue was doing magic to the tender under side of my shaft.
Jess smiled and fondled my nuts. Melanie eased off my cock and they both tongued my meat at the same time, licking and kissing my cock from head to balls.  That felt incredible and the view of them kissing each other was so erotic. After a minute, Melanie said, "Time for another game."
I groaned again as their lips came off me.  I was so close to orgasm that it hurt to stop.  All I wanted to do was to cum.
I watched my hot wife, and Melanie step over to Harry and I couldn't believe I was looking into my wife's eyes as she sucked another man's cock into her mouth and preformed fellatio on him. I could see her smile even though her mouth was stretched around his hard cock. Melanie took her turn and they pretty much did to Harry what they had done to me.
As I watched and continued to get more turned on, I heard a voice from behind me. I turned to see a gentleman, about five foot nine with salt and pepper hair, who was also naked with about 5 inches of dick and a slight beer gut, next to me.
He extended his hand said, "I am Dave Tina's husband."  I smiled and was even more impressed that Tina was with him.  Chris had been impressive enough but David had me almost speechless.  But I managed to hide my thoughts as I shook his hand and said, "The lady on the floor helping Melanie is Jess, my wife."  "Oh she is a pretty vixen," he said as he approached her and shook her hand. Melanie stood up and said, "Jess is my new girlfriend, we suck cock together." "Oh, well you're bonded for life then," David laughed.
"Hey, Melanie are you going to work the swing tonight, baby?" Harry asked. Melanie smiled, "Ohh you know I want to."  She grinned. I was excited to see the contraption in action and still wasn't quite sure how it worked.
"She loves getting in that swing, with four or five guys swinging her from one to the other," David said. I nodded at my understanding of his explanation as I felt my arousal increase.   I leaned over and told Chris, "Oh, yeah, I think I am going to love it too." "This is a safe environment for that sort of thing," Chris said.
Melanie walked over to the sex swing and Dave and Chris helped her into the stirrups and get seated comfortably. Jess got in close to me and took my arm. "This is going to be something way out there," Jess said to me.  "I have never seen one of these in action.  "Me neither," I said in awe.  After that, I just stood there, naked, dick still quite firm, and looked on.
Alright, she's all in, I thought as Dave and Chris agreed she was secure and safe. "Melanie is in the swing," Chris called out, but the music was still pretty loud, so he went through the room and shouted, "Melanie is in the swing, Melanie is in the swing guys."
In a few seconds Chris, Harry and two others Jess and I had not been introduced to, were in a circle around Melanie. One, was the guy I remembered passing just inside the door.  I wouldn't have paid attention to him if it was t for his giant cock. The other man was the one we had seen earlier with another woman in his lap at the bar area.
Dave pulled the swing and Melanie towards him and they kissed a few seconds. He reached down and stuck a finger inside Melanie and said, "Oh you wet little slut, you are ready aren't you?"
"Oh yeah," she smiled, and with that he pushed her back with a slight spin and she swung in front of Harry, who caught her.
He held the straps and pulled Melanie in, as he looked down and guided his cock inside her pussy. Harry stood there fucking her with both hands holding onto her ass. He said, "Stick out your tongue."  Melanie does and Harry sucked it into his mouth while fucking his meat in and out of Melanie.
Their kiss ended and he pushed Melanie away. She was sent swinging in a circle and Chris pulled her towards him and slid his cock inside her pussy. He fucked her for a minute or so before swinging her off to be caught by the guy with the huge cock.
He held the sex swings straps, squatted a bit and slipped what I guessed was nine inches of hard cock all the way inside Melanie.  She moaned and panted while the horse dick fucked her with solid thrust.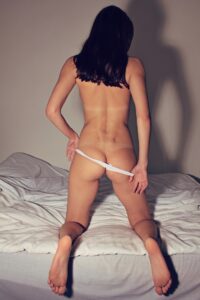 I felt Jess nudge my arm.  I looked at her.  "Isn't that hottest thing you ever seen?" She asked. I agreed. Melanie seemed to be having a great time and so did the guys. We stood there with several others that were cheering Melanie and the men on and encouraging the sex action.
Melanie was swung back to Harry, and he was banging away at her cunt when Melanie looked at me.  She gave me a finger motion to come over there. Chris looked my way and said, "Jump in there if you want, the more the merrier for her."
I looked down and my cock was hard, at what point it became full erection again, I don't know, but I looked at Jess, She nodded, "Do it." Then Jess slapped my ass and said, "Go fuck Melanie."
I walked over to the group and Jess went with me right by my side and I stood in an open spot at the swing. Harry smiled and swung the swing and Melanie right at me. I caught the swing and Melanie was all smiles. "Put his cock in me girlfriend," she told Jess.
Just like that Jess took my cock in her hand and got it right at Melanie's entrance. I stepped up and my cock slid effortlessly into Melanie's wet pussy. I began to fuck her with normal paced thrusts.  As I did, Melanie pulled Jess towards her and they began to kiss.  I was fucking Melanie, and this sight only turned me on more.  My thrusting speed picked up automatically as I groaned in pleasure.
Melanie got bent forward enough to suck one of Jess's nipples into her lips and I felt my cock harden like steel in Melanie's body. I drove myself into her with solid thrusts and her pussy took it easily and seemed to beg for more.
After a minute or two, I wanted to continue but figured it was customary to pass the swing occupant away, so I pulled my dick out of her and with a gentle push she was gone.  She swung away into Chris's spot again and I sighed with pent up desire and frustration.
As I tried to get my arousal under control, I felt a tap on my shoulder. I turned to see Tina standing next to me. I was momentarily embarrassed in her presence with a raging erection.
Tina said, "I think Jess wants a go at the swing, she seems to find it…. interesting." I said, "I think so too." "Not right now," Jess said appearing at my other side.
My erection was poking out, and Jess looked at my cock, she settled her pussy down onto my cock, taking me all of it into her very, and very wet hole. She clasped her hands around my neck, and leaned back.  She and I both gasped in pleasure as she did.
Jess looked at me and smiled. We'd never fucked in front of anyone before it had always just been the Bull and my Vixen as I watched, but since it was happening all around us, she began to thrust her hips back and forth, fucking me with deliberate intent. I was not even embarrassed.  I was loving every second.
Tina got up and stepped behind Jess.  She then she took my hot wife's breast into her hands and massaged them as she kissed Jess's neck. I felt my eyes go wide as I watched and my hips thrust automatically in excitement. Jess moaned and reached back to pull Tina's face over to hers and they began to kiss. Their tongues appeared to play as they sucked on each other's lips.
Tina looked at me.  We knew instantly we were going to kiss. It came over us fast.  Our lips soft against each other's, then I could feel her passion as she shoved her tongue into my mouth and I could taste Jess in our kiss.
"Oh god I'm cumming," Jess called out and began rocking back and forth on my steel hard cock as fast as she could.  She pumped her hips back and forth.
Her orgasm was solid and strong.  She stiffened up and ground her pussy hard into my crotch. I felt a rush of her wet juices suddenly soak around my dick, slick, warm and hot. Her eyes were closed as she quivered and came.
Next thing I knew, Jess dismounted me and guided Tina onto my stiffness. She settled her tight wet pussy down to my base in one smooth motion. Jess's hands roamed all over Tina's breast, as she kissed her neck and bit her ear.  Both women watched me from the corner of their eyes.
She smiled real big, then pulled Jess to her face, "Thanks for sharing your husband with me."
Jess's hand quickly got between Tina's body and mine and began to work Tina's clit at a frantic pace. Tina gasped and began to ride my cock faster, as she French kissed Jess like they've been lovers for years. The looked at each other, "Can I cum on your husband, Jess?" Tina gasped into my wife's face. Jess's fingers danced rapidly against Tina's clit. She nodded her head in approval, still looking at Tina. "Cum on my husband, cum on his hard cock."
I felt my own orgasm building up fast. Tina was wet, snug and she felt so damn good wrapped around my dick. Suddenly she gasped, as her body jerked violently several times but she never stopped looking at Jess. They kissed again as Tina's juices flowed from around our fuck parts and drained onto my balls.
"I want you to taste me, know me, will you do that for me, Jess," Tina asked my wife. Jess nodded her head, and Tina rose off my cock, leaving it sticking up like a seven inch wet pipe, coated in her juices, throbbing in the air. I was in agony and yet almost relieved, since I was so close to spewing my nuts into another woman.
Tina guided my wife's head over my cock and Jess wrapped her lips around the head of my dick, her tongue slowly worked the tender underside, which was the pleasure area of my dick.  She moaned in pleasure as she tasted Tina's essence on my swollen cocks head.
Jess's lips squeezed, and gripped my shaft as she opened her jaw slightly and went deeper.  She was caressing with her lips and sucking her way slow and methodically down my cock, eating Tina's cum and juices cleanly off my manhood.
My eyes closed and head drifted back as the pleasure of her skilled mouth continued to suck another woman's presence off me.  Her mouth on my dick consumed my entire being. I was at that second, not a Stag , just a cock being soulfully pleasured. Intense and wanting more did not begin to describe how I felt in her mouth.
I felt Jess's lips on mine. Soft, sensual and her touch, further stiffened my cock in Jess's mouth. I was so close to blowing my cum down Jess's throat, but I had another surprise I felt Tina's tongue on my cock, two sexy ladies mouths on my cock now,  I could not contain myself I exploded on their faces and mouth like I've never cum before , I could not stop. The girls shared my cum kissing and licking it off each other and my now softening cock, at that moment Melanie came over 'oh you three have been busy, I think it's your wives turn now Miles.' It certainly was but that is another story…………….
Stag Vixen Hotwife Swinging Cancun
Read more Hotwife Vixen Shared by her Stag MFM Erotic 
Show the world on your vacation with a  Classy Quality Anklet