Tips: Help make your wife a Hotwife
So you want to turn your wife into a hotwife.
Understand, she won't be into the idea… at first. The chances of your wife jumping at the chance to bang other men at first mention, is almost nil, even if she's kinky or polyamorous.
Sure, there are lots of women out there who want to become a hotwife. If she's your girlfriend, she's already brought it up. For the rest, she's likely to be put off at first.
You have to start by floating the hotwife idea out there, and letting it take root.
How to Make a Hotwife
Nurture her natural desire to explore her inner vixen.
All women are fascinated by their own powerful sex goddess side. Even those who feel shy, have body issues, are older, or any other perceived mismatch with the archetype of sex siren. They all have a place for that vixen in their imagination.
The most straight-laced women are intrigued, even if they are also repelled, by "ladies of the night," exotic dancers, and Hollywood beauty queens. We are amazed by fictional heroines and real life bombshells whose powers of seduction are larger than life.
To make your wife into a hotwife, help her see herself in this light.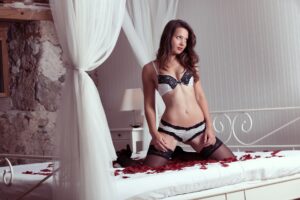 Don't forget the hotwife clothes and accessories.
A woman's love of shopping and dressing up is often dismissed as superficial, but the pursuit of beauty is ancient, archetypal, and profound. Masquerade is a ritual act, and dressing up is a deeply emotional and powerful aspect of sensuality, role play, and transcending the everyday grind. Don't underestimate the allure of that metamorphosis.
When you've been together for a while, you get comfortable and likely she only dresses up for special occasions. Remind her how much you love her siren side, or her tightest jeans with heels, and remind her how men and women notice her when she's dressed to kill.
Indulge her with filmy lingerie, fine French stockings, a little red dress. Encourage her to express different sides of herself through glamour. Let her experience the power she has over you when she dresses up, and highlight how much impact it has on others who see her too.
This is no small thing—power is an aphrodisiac, and beauty is one of women's superpowers. While we all want to be recognized for our skills and contributions outside of being pretty, this never negates this essential life force.
Part of the Hotwife attire might be a  Sexy Anklet
Sell her on the benefits of being a Hotwife
What's in it for her? Make that the focus of your discussions about becoming a hotwife.
What's important to her? Some things that are likely to be on that list are growing closer and more intimate with her man, and feeling attractive and desirable.
Express with details specific to her and to your relationship how hotwifing can benefit those areas.
Read: How To Be A Hotwife
Make sure she understands how arousing it will be for you.
While you want to outline the thrills for her of being a hotwife, don't pretend the idea is ONLY about her desires and needs. A big part of a woman's desire is attached to YOUR excitement.
Her knowing how much the arrangement will turn you on may be all some women need to try it out and become a hotwife.
Her main objection will probably be that she only wants to be with you.
You have to have open honest discussions about this, and find ways to re-imagine being together—together.
Don't dismiss or downplay this objection. Even polyamorous women often focus one on one with each lover. Overcome this by showing that trust, intimacy, sexual passion, and love between you can be enhanced by an exciting journey together.
If your partner decides she's game, show her: Tips Creating A Sexy Adult Dating Profile 
Ready to get started? Come Play on VXN